CMYK
White
Light Cyan
Light Magenta
Pre-treatment Primers
Post-treatment Coatings

Overview
NanoGraphic Inks® has developed an innovative digital UV-LED printing system that surpasses all others in total use across the globe today.
The system owes its amazing advantages largely because of our exclusive nanotechnology research, development and multiple applications uses. The use of these specialized blended nanosized pigments and additives to the NanoGraphic Inks® formulation, combines a unique synergy of natural curing print processes with our developed ultra bright UV-LEDs, based on gallium nitride heterostructures used in our Sackel Corporation® UV-LED Wide Format Printers.
The Sackel Corporation® Printers were engineered with our NanoGraphic Ink® technology in mind so that we could print images on virtually any type of substrate. Not only to advertising and printing products, as traditional printers have in the past. But also print on items such as: metals, furniture, wood, tile, glass, acrylics, appliances, electronics, stretch ceilings, wall panels, fabrics and so many other surfaces.
Sackel Corporation® printers combine high productivity with low operational costs, which significantly reduces the cost of the printed product. NanoGraphic Inks® offers the broadest range of color spectrums visible to the human eye. High resistance to light, produces exact color reproduction and a long shelf life. All highly important factors in the print industry today.
Benefits
Prints on almost all substrates
High level of adhesion to materials
Use of nanoparticles extend print head lifetime
Light resistance rating of 8+
High brightness and saturation of colors
Print with a broader spectrum of colors
Ink dries immediately, speeding up production times
Non-toxic VOC means safer conditions for operators
NanoGraphic Inks® are eco-friendly
Competitive Advantage
Provide increased stability on any material
Offer your customers services that no one else can
UV-LED printers: safer to operate, durable, and consume less power

Anti-Bacterial Effect!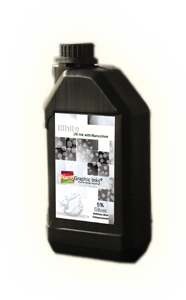 Our ink kills harmful bacteria, mold and mildew. Approved by the Federal Service for Consumer Rights Protection and Human Welfare
Primers & Coatings
We have created a variety of Primers and Coatings for printing on even more substrates with bright & vibrant, long-
lasting results.
Applications
Flooring
Backsplash
Celing Pannels
Wall Pannels
Table Tops
Doors
Blinds
Window Shutters
Stained Glass
Artwork
Signs
Banners
Custom Cabinets
Electronics
Wall Coverings
Interior Accessories
Substrates
Glass
Acrylic
Plastic
Metal
Fabric
Stone
Ceramic
Marble
Granite
Wood
Paper
Canvas
Vinyl
PVC
DiBond
Aluminum
Water
Foamcore
Envirocore
Coroplast