High Quality digital printing on glass up to 7.9" thick
That's right! The Sackel Corporation Corporation® UV-LED Series prints on glass and many other substrates up to 7.9" thick.
The Sackel Corporation Corporation® UV-LED NanoGraphic printer is in the top of its class, boasting some truly amazing features:
Prints photographic quality of up to 720 x 1440 dpi.
Up to 9 print heads holding CMYK + Lc + Lm + W + W + Clear Coat/Varnish so you can print bright and vibrant colors.
NanoGraphic Inks; use of nano-technology allows for high resistance to light, exact color reproduction, and even anti-bacterial effect due to the use of NanoSilver particles.
Unique carriage raising system ensures direct printing on materials up to 7.9" thick.
Embossing effects up to .23" with multi-layered printing. By printing several layers of ink your images gain texture with a raised effect.
UV curing system dries ink immediately, speeding up production times.
The ability to print on glass is becoming more and more, a hot commodity, especially in the interior design and art sector. The applications for printing on glass are endless. Below are some of our recent successful projects.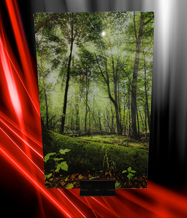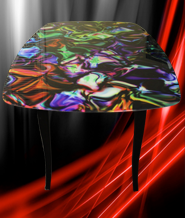 If you are interested in purchasing the Sackel Corporation Corporation® UV-LED Series and have a specific project in mind, please feel free to contact us. Part of our business is pushing the limit of our printers and accepting new challenges. Tell us what you want to print on and we will make it happen.
English